Much like January, March was yet another low reading month for me. I read only two novels, and a smattering of trade comic volumes. Today, I've got book reviews for the two novels I read. A big comic review post is coming up soon! This post contains affiliate links. Any money earned through these links goes towards covering the cost of running this blog.
Overall rating:

"Ketterdam: a bustling hub of international trade where anything can be had for the right price—and no one knows that better than criminal prodigy Kaz Brekker. Kaz is offered a chance at a deadly heist that could make him rich beyond his wildest dreams. But he can't pull it off alone…" via Goodreads
As an FYI, I have not read the Grisha series prior to reading this. I know it takes place in the same world, but I wanted to see how this book fared without having prior knowledge of that world. In short, it was great!
I pretty much always enjoy a well done heist story, especially set in a very fun fantasy world. I do feel that the world would have felt a bit more rich had I read the Grisha series, but at no point did I find it lacking or vague. Though this did make me want to read that series all the more – I've heard nothing but good things!
I really enjoyed the characters, although one thing bugged me a bit early in the book. I couldn't figure out why the main character, Kaz, had such loyal friends. Kaz is really not a nice guy, willing to do bad things, and that's fine. But he did not treat his compatriots that well or with much respect. Which left me a bit confused as to why they were so devoted to him. They didn't seem to be loyal to him due to fear or obligation; they truly wanted to please him and genuinely seemed to care for him. Although it's never really explained, this did stop bothering as I continued with the story.
Overall this was a very fun read, filled with fantasy adventure and very enjoyable characters. It had a great mix of both male and female protagonists, all of whom had compelling story lines. And of course, the overall plot was quite enjoyable. The end left a good cliffhanger, and I'm quite excited for the next in the series!
It's also worth nothing that this book is beautiful. As in physically beautiful. I so adore the cover design, and the pages are edged in black…it's stunning. A lovely addition to my shelves!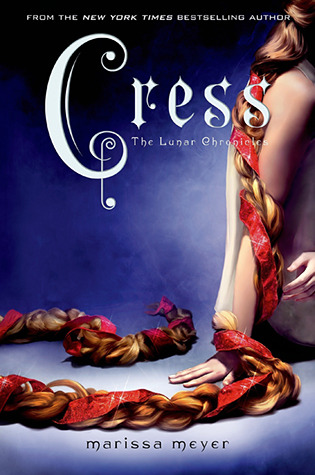 Overall rating:

"In the third installment of the Lunar chronicles, Cress, having risked everything to warn Cinder of Queen Levana's evil plan, has a slight problem. She's been imprisoned on a satellite since childhood and has only ever had her netscreens as company. All that screen time has made Cress a great hacker. Unfortunately, she's just received orders from Levana to track down Cinder and her handsome accomplice. " via Goodreads
While far more enjoyable than Scarlet, Cress didn't quite live up to how much I enjoyed the first book. I still really enjoy Cinder as a character. I like where her story and the overall plot are going. And I really liked Cress as a character. The fact that she was a bit crazy from being in seclusion for basically her whole life was great. Her 'life experience' and people skills are all learned from netscreens…aka television. To say her views and expectations are skewed would be an understatement. It was quite enjoyable to see her grow along the way.
However, I am still unimpressed with the character Thorne. He just seems so empty and shallow (both as a written character, and his character's personality). I wish he was not around. I didn't like him in Scarlet, and I still don't like him here. Unfortunately for me, he plays a large role in this book.
Overall, I'm invested enough to read Winter and see how everything plays out, but this isn't a series I'm head over heels for. It lies solidly in the 'okay' category at this point in time.
What did you read in March? Anything amazing, or terrible?