To kick off February I'm joining in with ComRom's #ALLtheTales – a week of content all about fairy tales, in the many, many forms they take! For my post, I want to share a great comic series: Fables by Bill Willingham and Lan Medina.
The series Fables follows characters from different fairy tales & folklore as they live in modern times. Exiled from their homeland by The Adversary, these fables now reside among us in secret. Throughout the series we learn many of the histories of each character, along with a progressing main plot and separate side stories as well.
I think what I love most about Fables is how these well known storybook characters have been modernized, and how they deal with living in the human world. In fact, this entire series is what I wish the show Once Upon a Time would have been. I think it's a huge reason I can't get into OUAT, as I find myself wishing things happened like they do in Fables!
The characters (known as Fables) who can pass as humans reside in our world in an area they've designated 'Fabletown', and it's run like a small government. No spoilers as to the leadership, but I found many of them pretty funny. As for Fables who look non-human all the time (for example, The Three Little Pigs) they reside in a area in upstate NY called The Farm. The fact that they are segregated and forced to live in isolation becomes a huge plot point in the early volumes.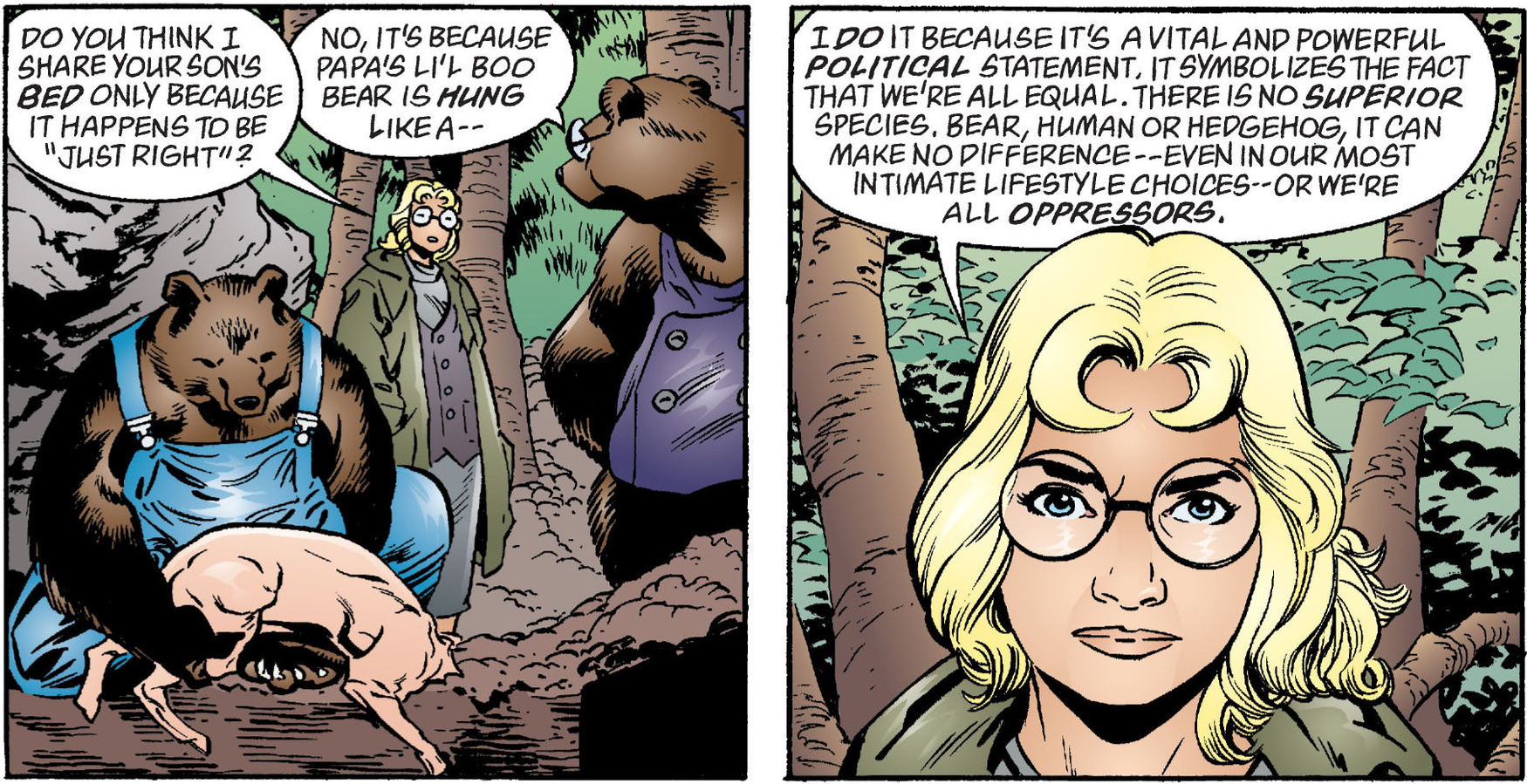 The stories are definitely what I would consider on the dark end of things. And considering there are 22 trade volumes of this, there is a LOT of material. I've read through Volume 10, and some are definitely more interesting than others. The art is consistently good, which definitely helps when some of the side stories aren't that compelling.
For anyone who enjoys a good fairy tale modernization, I'd definitely recommend Fables. It's compelling and especially in the early novels has pretty interesting parallels to our current world about race and class equality. The stories told are definitely for adults, while still featuring all the characters we know and love from childhood tales.

Be sure to check out other articles from Common Room for #ALLtheTales week, or write up your own! Have you ever read Fables? What did you think?